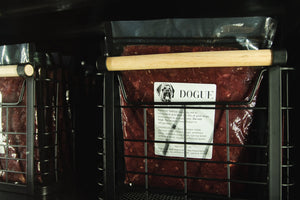 WHY RAW?
Fresh food is the pinnacle of pet nutrition. Our foods are minimally processed and preserve the integrity of the ingredients.
LEARN MORE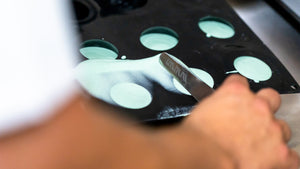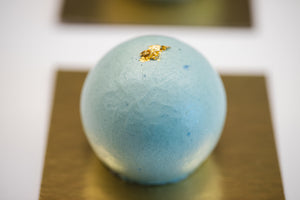 CHANGES MOST COMMONLY SEEN BY PET PARENTS
Increased energy and vitality
Better digestion with smaller, firmer stools
Relief from food sensitivities
Improved skin and coat
Improved weight and body condition
High enthusiasm for meal time
Dogue raw food is simply the best! Our dog Henry was tired of eating kibble, no matter which brand or how we tried to serve it to him. He immediately took to Dogue's raw diet. He absolutely loves his food (and all the additional treats), licking the bowl clean every time. After a week or two of trying Dogue, Henry's coat was softer and shiny and as a bonus his poops smaller and drier! Dogue uses only the finest raw foods and nutrients and worked closely with us to help formulate meals that didn't trigger our dog's allergies.
Rick, Racky, and Henry Friedman
I am so grateful for the delicious and nutritious meals that Dogue provides each week for Sienna! There is so much love and care in each meal. Sienna thrives from the raw diet and licks each bowl clean.
Allison and Sienna Alfrunti
Our dog Elmo was such a picky eater. We tried MANY different brands of dog food including several premium raw and freeze dried brands. Every mealtime he would turn his nose away and we had to hand feed him in order for him to get enough calories. When Elmo started on Dogue raw food, we never had an issue at mealtime again. He is so excited for his meals and he gobbles it up immediately. Mealtime is no longer stressful. The packets are easy to use too. Half a packet for breakfast and the other half at dinner. We feel good about optimizing Elmo's health and longevity with such fresh ingredients. Thank you!
Tina, Paul, and Elmo Crisci
Our dogs, Kopi and Coconut, have been going to Dogue for over 5 years now. In that time, they have been eating a raw food diet that is specially prepared for them by Dogue. Kopi and Coconut love their raw food diet, especially when treated to tripe! During this time, I have noticed that the food they consume is digested properly. We are thrilled to round out their diet with the food prepared by Dogue. Lucky pups!
Dean, Debbi, Kopi, and Coconut Icardi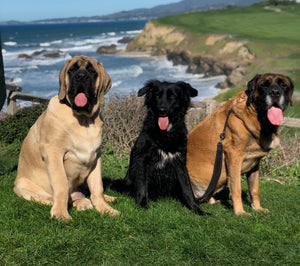 ABOUT US
In 2010 Grizzly came into our lives and changed everything. We have been hand crafting small batch, artisanal food ever since he was 11 weeks old. We officially began this offering for clients in 2015. Grizzly is the seed that grew into the tree of our lives and changed us forever. Dogue translates to Mastiff in French, a homage to my roots in classical French cuisine and our first Mastiff Grizzly. Dogue is our mission to change the lives of as many dogs as we can. Feeding fresh, seasonal, quality whole food one meal at a time.
ABOUT US